Silent Night ASLSP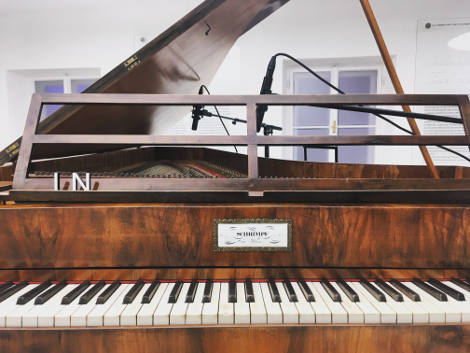 During my stay in the archive of the Silent Night Museum Hallein, I worked on an extremely slow version of the silent song, which - adapted to the 200-year anniversary - lasts 200 hours. For this Richard Eigner has worked with Franz Xaver Gruber's original instruments at Hallein's Silent Night Museum. I was allowed to record the original piano, Franz Xaver Gruber employed to compose »Silent Night«. Listen to a stereo excerpt of the 6 channel installation here:
Using a special technique through the use of E-bows (electromagnets), the piano strings can be put into an endlessly vibrating overtone-rich state, which serves as a sonic starting point for a decelerated piece version. Through the concept of slowing down completely new aspects of the piece are brought to light: the result promises to become a highly peaceful musical experience of slowness.
In 1987, John Cage, known for his »silent« piece, wrote a composition called ASLSP. The eight-page score is instructed to play the work as slowly and gently as possible (as slowly and softly as possible). After the premiere by the organist Gerd Zacherl in Metz with 29 minutes is still described as hasty, since the year 2001 in the St. Burchardi Church in Halberstadt instead of a performance variant that corresponds to Cage's idea in a much greater extent: with a total length of 639 years, it is now considered the slowest and longest lasting piece of music in the world.